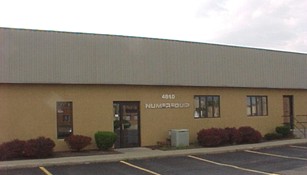 Numerequip, Inc. was founded in 1978 as a Distributor for Top Tier CNC Machine Tools. In 1983 Numerequip moved to our present location, 4810 Briar Road, Cleveland, Ohio, to facilitate a Technical Center with Customer Applications and Training support. In 1991 we doubled the size of our building to support production-ready capabilities.
Numerequip's mission is to focus on select, high-quality lines that share similar traits of long term quality and durability, excellent service, excellent replacement parts availability; as well as continuously innovative and diverse product lines.
Numerequip carries a reputation for being a consistent organization, family owned and operated, that considers customer support and satisfaction our #1 priority. Our average employee has 20 years of service. 80% of our business volume is a repeat customer with 50% of our new customers being referred from our existing customer base.
We offer Applications Support, Training, Accessories, Automation, and Used CNC opportunities alongside our top-level Service Techs.
Please contact us to learn more about our product offerings, and to see how Numerequip, Inc. can help you maintain your equipment and grow your production!